Available Product Options
Scroll down to see the various options that we offer.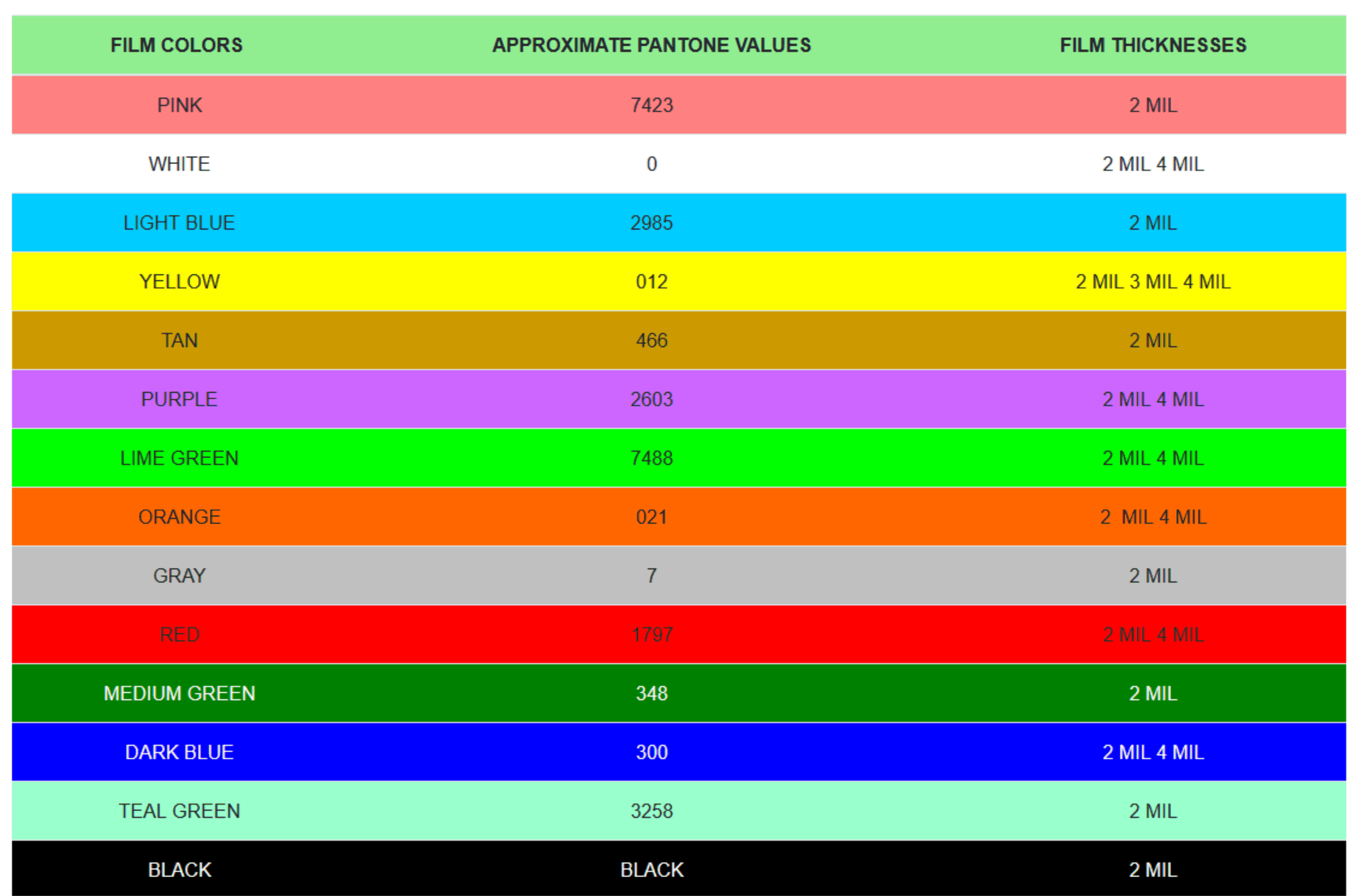 Our custom caution tape is the most customizable in the industry with MANY options to choose from.  This page lists options that are available for many of our custom products.
Film Colors
The chart above shows the approximate Pantone values for the film colors we offer.  Not shown on the chart are Glo Pink and Glo Orange films available for certain products.
Film Thicknesses
Regular duty - 2 mil; Rough duty - 3 mil (yellow film only); Heavy duty - 4 mil.   The chart above shows what thicknesses are available for each color of film that we offer.
Ink Colors
We have the capability to print up to 3 colors at a time.  Standard ink colors are:  black, white, red, blue, green, yellow and orange.  Pantone ink color matching is available for an additional $12.50/color.  Pantone matching generally requires white film, but certain matches are successful on certain film colors.  Please inquire.
Image Size
Image size is limited by tape width and repeat length.  Generally, the image height is 1/2" less than the tape width while the image length is about 3" less than the repeat length.  We offer two repeat lengths:   19" and 38" (18.8" and 37.74" to be exact).  The 19" repeat is used for single color or multi-color printing, while the 38" is used for single color printing only.
Roll Lengths
Standard roll lengths are 500' and 1000', but we will wind custom lengths from 10' to 2000'.
Roll Widths
Custom barricade tapes are available  in the following widths:  2", 3", 4", 6".  The most common width is 3".  Narrower widths of 1  3/16"  and 1  1/2" are available for our   Custom Flagging Tape   products, Message Flagging products and Tag products.
Roll Quantity
You can order the quantity of rolls of custom barricade tape that you need.  Please inquire.  Some of our custom products have minimums greater than one.
Pricing
Our pricing is very competitive.   We base our pricing relative to the various options we offer.  Pricing will fluctuate depending on market pricing for raw materials and costs for production.
Many of our products are available to order online, however not all options are available online.  If you do not find online products that meet your needs, please   Contact Us   or call   (888) 985-6825.